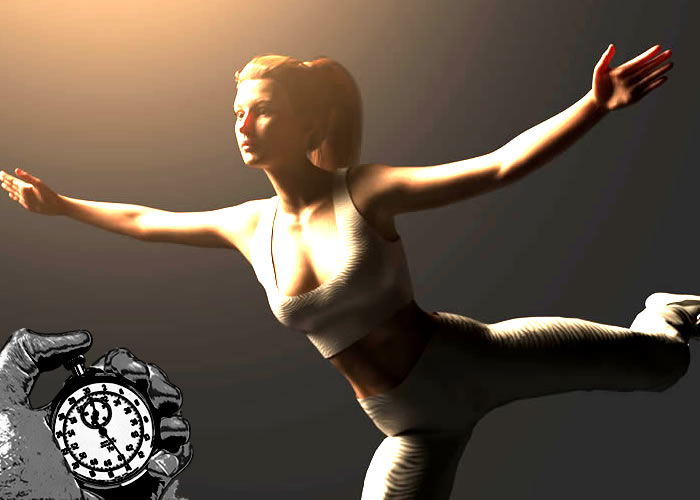 DANCE TIMES
If you are looking for the time length of each of our dances you can find them in the following PDF. I keep this pdf up to date when I release all new dances. Please note that some really really old dances may not be included in the list.

Last Updated - 26 June 2023
You can use a dance animation in a number of ways in SL. In its simplest form you can click on it in your inventory and select one of two options. Hit the button 'Play Inworld' and the animation will play on your avatar so that you and everyone around you can see it. If you select 'Play locally' the animation will play but only you will be able to see it.

A More advanced method of using dances in SL is to load them into a control HUD or In-World Dance Machine. These devices allow you to play a series of dances in sequence, create playlists, allow you to control other avatars (that give permission) amongst other things. We sell a simple dance hud and a simple dance machine, but any good HUD / Machine in SL will work. By 'good', I mean a device that allows you to load third party dances.... Which is most of them!
To load the dances into a dance machine or dance HUD, you will need to perform the following steps.

1. Drop the HUD/Machine on the ground in SL
2. Right Click on it select 'Edit' from the Pie Menu that pops up.
3. Now select the Content Tab on the window that appears.
4. You will see a list appear of all the scripts and animations inside the HUD. If the HUD has a lot of items it may take a while to load.
5. Once everything has loaded drag the animation from your inventory into the content tab.
6. Give it a while to load before closing the window, especially if there are a lot of items.
7. Take the HUD back into your inventory and attach it or if it is a dance machine rezzed in world you can start using it immediately.

IMPORTANT! Do NOT try and edit the content of your device while it is attached to your avatar. This will prevent you from adding items. The HUD or Dance Machine must be rezzed on the ground for you to edit it.
There are a number of reasons why you might have trouble adding an animation to your HUD. The most common cause of this is trying to add the animation while it's attached to the Avatar. Before you can add animations to your HUD ( with the exception of full perms animations ) you will need to drop it on the ground in front of your avatar first. Please see the above question for a step by step guide to adding animations.

If the HUD is not attached to your avatar but you are still having trouble adding our animations please check that the HUD is modifiable (Some third party HUDs may not be) and check that the HUD has not been 'Locked'

To check that the HUD is not locked please right click on it, select edit and then click on the object tab. You will see a checkbox labelled 'Locked' at the top of the window. If this is checked it will not allow you to make any changes. This is a feature in SL that allows you to lock an object so you do not accidentally modify or delete it. It also prevents items from being added or removed.

If you are still having trouble adding animations after the above steps, please try again in another region. From time to time regions can have issues causing lag and problems with modifying objects. Likewise, it sometimes pays to try again later if SL is having general difficulties.

A common mistake by newbies is to assume that items labelled 'No Transfer' cannot be added to a HUD. This is incorrect. No transfer means the item cannot be transferred to another avatar. It does not prevent it from being added to a users HUD though as long as they are the owner of the HUD.
No, We do not sell our animations preloaded in a HUD as some other creators do. This is primarily because we want our animations to stand by themselves and not be judged on the basis of the HUD. We also want our customers not to feel limited to using them as a stand-alone item an understand that animations can be mixed and matched easily. In much the same way as a DVD does not come with a DVD player, our dances to not come PreLoaded in a dance HUD.

If you want to use them in a HUD we do have a realtively simple one available for 250L as well as a wearable dance machine (also known as a dance chim). The dances should work in any dance HUD though as long as it allows animations to be added.

For people wishing to make complex dance choreography for live performances in SL or videography, you may wish to look at the 'Spot On' range of products. They have worked hard to produce some great HUDs and Tools specifically for this purpose.
We generally do not make custom dances to order. We do take suggestions though so please feel free to drop us a line with your ideas.

Whether we can make the dance will depend on a number of factors such as viability, whether it is likely to sell, and crucially whether the RL dancers we hire are able to perform it.
If you saw our dances somewhere else on the grid for sale cheaper by another avatar or even set out for free, then they are most likely stolen! If you do find such content ( not just dances that look a bit similar to ours, but ones that are the same. ) please drop me a line to let me know.

All our content is originally recorded in our own motion capture studio and processed by myself. Sometimes however unscrupulous people manage to steal creations and re-upload them in an attempt to pass them off as their own content. This hurts the real content creators. It takes a lot of time to produce high quality content for SL and in our case (with mocap) it is also super expensive.

Aside from the cost and potential brand damage, stolen content is also just extremely demotivating and has contributed to many creators I know leaving SL altogether. If you see something in SL that is cheap or free and did not originate from the original creator. It is always worth questioning if it really is free or if it may be stolen (ie. copy botted). If you do find something that looks dodgy please do let the creator know!

Thanks for your support!
Our dances are made using Motion Capture Technology. To do this we hire dancers that wear a special suit with reflective markers on it. These markers can be tracked by special Infrared cameras. The mocap system can then convert the dancers motions into a 3D skeleton format which we later convert for use in SL. This creates very realistic motion that captures much of the subtle movements normal keyframe animated motions do not.
In reality its a bit more complex than it sounds as there is a large amount of data cleanup and processing work required before it is ready for SL. There is also a lot of preparation that goes into the actual capture. And of course the amazing dancers have to learn the dances they are to perform.
Our motion capture studio website is
www.awesomedog.com
We do sell some of our content on various other platforms such as IMVU, Sansar and SineSpace. We also sell some of them (with more added regularly) on our studio website for use by 3D artists and Game Developers.
This is the link to our studio website where you can find out more.
www.awesomedog.com
Yes, please check the top of this page for a PDF download that contains the time/length for our dances in SL.